HOW TO: Feral Furoshiki or Handy Handkerchiefs Handling
Posted: Thu, November, 22nd 2018
Furoshiki are a type of traditional Japanese wrapping cloth traditionally used to transport clothes, gifts, or other goods. In this tutorial I am showing 8 of my favorite ways to use furoshiki to carry items if all you have is one or two handkerchiefs or pieces of cloth.
"Although possibly dating back as far as the middle of the Nara period, the name, meaning "bath spread", derives from the Edo period practice of using them to bundle clothes while at the sent (public baths; public furo) to prevent a mix-up of the bathers' clothes...
Read more > >
DIGITAL-DOWNLOADS Now Availables!
Posted: Tuesday, January 22nd, 2019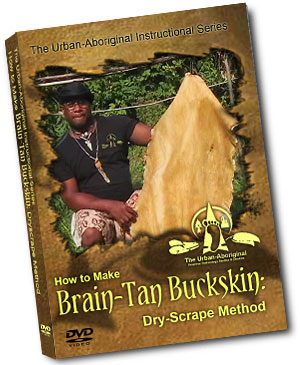 In the video, Brain-Tan Buckskin DVD: The Dry-Scrape Method, I will take you through the entire process from a 'green' hide to a soft, supple, luxurious, finished product.
In this video, How to Make Fire by Friction : The Bow - Drill Method, I will show you how to create one of the most reliable ways to start a fire from scratch.
Download Today! > >