HOW TO: 'Rap Rocks
Posted: Wed, November, 30th -0001
Not a very primitive activity, but a way to afix stone, jewel, or fossil element as an amulet or talisman using manufactured materials. The same thing could be done with natural cordage. Instead of wrapping, knots would have to be used. What you need:
Rock, crystal, or gemstone
20guage jewlery wire
15guage jewlery wire
jewlery wire cutters/tools
Read more > >
DIGITAL-DOWNLOADS Now Availables!
Posted: Tuesday, January 22nd, 2019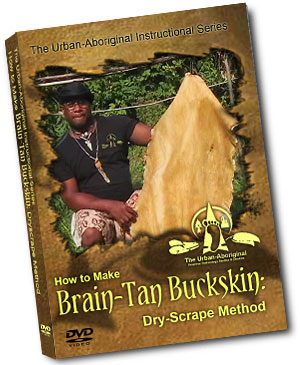 In the video, Brain-Tan Buckskin DVD: The Dry-Scrape Method, I will take you through the entire process from a 'green' hide to a soft, supple, luxurious, finished product.
In this video, How to Make Fire by Friction : The Bow - Drill Method, I will show you how to create one of the most reliable ways to start a fire from scratch.
Download Today! > >